Hockey
60th Anniversary Celebration
If you wish to attend payment is required, in advance ASAP, by one of the following methods:
1) Cheque made payable to "Instonians" for £35 per person. Send to:
Haydn Taylor,
20 Knockbreda Park,
Belfast BT6 0HB.
Please put all names covered by the cheque on reverse.
2) BACS transfer with the reference "60th YOUR NAME" for £35 per head.
Sort Code: 98-00-60
Account Number: 42275149
Please send an email confirming name(s) and importantly the reference used to This e-mail address is being protected from spambots. You need JavaScript enabled to view it
IHA Concussion Guidelines
IHA have a concussion policy / guidelines available on their website. This can be found on www.hockey.ie under the IHA tab and Concussion Policy. But for a quick link please click here.
Links to other facebook pages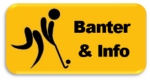 Mouthguards - a message to players
Message to Players:
Mouthguards
It has come to our attention that a significant number of players across all levels of the Club are choosing not to wear a mouthguard during both training and matches.
Whilst accidents might be rare, the risks are significant. One of our senior players is currently still undergoing complicated and expensive dental treatment a year after his accident.
As with all clubs affiliated with Ulster and Irish Hockey, players are 100% personally liable for any dental injury or damage or loss to teeth.
The Club Committee strongly advise players who do not currently wear a mouthguard to have one fitted at their dentist to avoid the risk of having to undergo many months of treatment at great personal cost.
Office Bearers, Management and Coaching Staff
2023-2024 - Office Bearers, Management and Coaching Staff
Club Chairman: Richard Palmer

Honorary Secretary: Gavin Lecky

Youth Leader: Ricky Lee

Child Protection Officer: John Watson

Club & 1st XI Captain: Ben Palmer
Club Coach: Stephen Watt

General Contact Details: This e-mail address is being protected from spambots. You need JavaScript enabled to view it
<< Start < Prev 1 2

3

Next

>

End

>>


Page 3 of 3